Many women and even men know makeup can totally change the way you look and feel.
There are different tips and tricks that will make you look your best.
Below are just 5 of the makeup secrets that help you look fresh all the time.
Apply these rules and you will definitely be ready to start every day with a smile.
Eyelash Curler: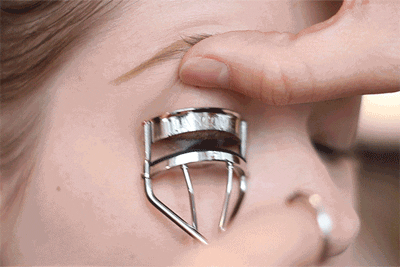 One of the simpler makeup secrets that many makeup artists know is using an eyelash curler. It helps you lengthen as well as curl the eyelashes and consequently makes your eyes look more awake. The eyes will also look much younger. A simple trick to make your eyelash curler work even better is to warm it up for 5 to 10 seconds with a blow-dryer. This way the curl will last much longer. It is important to remember to always curl your eyelashes before mascara for the best results.
Wear A Bright Eyeshadow:
Another great tip that will make you look fresh all the time is to wear a bright eyeshadow. White eyeshadows, for example, help make the eye area look brighter. This kind of makeup is best for light coloured eyes such as blue because the colour will stand out even more. One of the most simple eyeshadow ideas for blue eyes is to add a little bit of brown eyeshadow right in the crease of the eye. This will help you define the eyes and make the blue colour pop.
Use Concealer:
A concealer is one great face product that will make your face look younger and fresher. Concealer helps you to disguise and blemish both the fine lines and wrinkles. It will also help you to disguise other skin imperfections. Concealer can also be used to brighten certain areas of the face. Some of the best areas to add concealer include the area under your eyes and the area down the bridge of your nose. For an even more brighten look, try using a concealer that is one to two shades lighter than your normal skin tone. This will allow the concealer to also act as a highlighter which will make you look even more awake.
Use HD Makeup:
HD makeup is a great option as it helps the skin to look naturally flawless. This article gives some great tips and tricks about using HD foundation and makeup, especially for pictures. HD makeup blends into the skin leaving it fresh and bright. HD makeup is perfect for those who are trying to cover imperfections or trying to make their pores look smaller. Most people feel that HD makeup gives a great airbrush look.
Apply A Bright Lipstick:
One of the best makeup tips that artists all over the world use is applying a nice bright lipstick. A bright lipstick makes the whole face look fresh and it gives your smile a certain glow. Try applying a bright energizing colour such as pink or red. Always be sure to clean and moisturize the lips before applying any bright colour lipstick because the lips will look better and the colour will last longer.
Although there are different ways that make your skin look fresher, these are five of the more basic rules that a woman should take into consideration. Each tip will make your skin look brighter. Try using a SPF cream even when you don't think you need it because it will protect your skin and it will keep it young-looking. It is also important to wash makeup off at the end of the day.