Attention ghouls and gals, this is not a drill! Spooky season has officially entered the chat!
Halloween time is easily one of the most fun and exciting times of the year. The sweater weather, spooky treats, haunted houses, pumpkin spice everything, scary movies, and decorations are to die for! Therefore, if you're an October baby then a Halloween Ball Themed Quinceanera is the best option for you! Keep reading for more tips and tricks on throwing your very own  Spooky Quince Bash!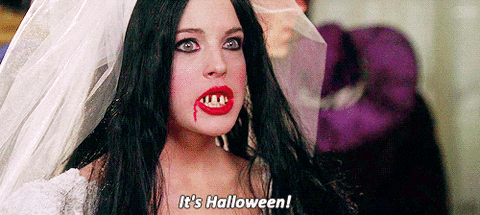 Hot Ghoul Halloween Cakes
Firstly, impress your guest with these beautifully enchanted cakes that can double as your centerpiece. You can get as creepy or cute as you want with these Halloween-themed cakes. In addition, consider having your cake decorated with cute pumpkins, candy corns, or spiders and bats depending on the vibe that you're going for.
I Put a Spell on You XV Dresses
Not to mention, an all extravagant black dress is a must for your eerie quinceanera ball. Not a fan of an all-black look? Be that as may, the options are endless for a fun theme like this! As a matter, of fact, you can even get away with wearing a Halloween costume. 
A Playlist to Die For
Not only should your venue look great but it should all sound great! Above all, you're going to need a playlist that is to die for too! Songs like the 'Monster Mash' and 'Thriller' are an absolute must. As a matter of fact, check out some of these Halloween bangers that are a must for any Halloween party!
Spooky Glam Looks
Just because we have a Halloween quince theme does not mean that we have to look spooky! Check out some of our favorite wickedly glam makeup looks.
Hauntingly Beautiful Decorations
Getting into the Halloween spirit doesn't mean that we have to sacrifice chic-ness! This is a time where you can get as creative or simple as you want. Check out these elaborate tables and centerpieces for your All Hallow's Eve aesthetic.