The proper way to celebrate a princess, is a la Beauty and the Beast style!
Is Belle your favorite princess? Isn't Beauty and the Beast a lovely story? Well then get inspired by this French romantic fantasy film and plan the perfect quinceañera.
Dress
Belle's most memorable dress is the yellow model however she's also seen wearing a lovely emerald green dress as well as her winter pinkish dress. Consider these three styles and choose whichever suits you best! Keep in mind that some of the elements you choose for your party should match the color of your dress.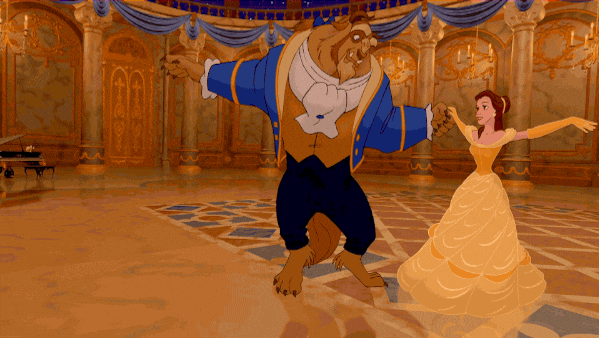 Tablecloths and chair covers
The film's most prominent colors are yellow, royal blue and red, the first symbolizes Belle's last dress, the second symbolizes the Beast's cape and the third one symbolizes the enchanted rose. Create your table linens and chair covers combinations with these colors in mind and you will instantly set a very Beauty and the Beast atmosphere.
Centerpieces & Decorations
How about enchanted roses as centerpieces? You can buy them at Etsy or with the help of your friends, follow this DIY tutorial and save a few dollars on your budget. Now that your tables, chairs and centerpieces are taken care of, how about going the extra mile and incorporating Mrs. Potts and Chip to the mix? Buy this cute Beauty and the Beast tea set and have the servers offer your guests some tea while they wait for your arrival.
Party Favors
Choose from these two amazing ideas, they're both DIY! You can choose to decorate Belle's hand mirror and have the engraved or place red crepe paper roses and hang personalized tags to each, try Etsy or Pinterest for some DIY inspiration.  When purchasing the hand mirrors look online for wholesale or ask your family members and friends in advance to donate theirs if they don't use anymore.
Hors d'Oeuvres
In Beauty and the Beast Lumiere kindly asks Belle to enjoy the feast when singing "Be our guest", take note of this and treat your guests with delicious appetizers and fancy hors oeuvres. This can be done before your arrival or while serving the cake. For appetizers choices you can refer to the Beauty and the Beast official Disney's Be Our Guest Restaurant's menu in Magic Kingdom.
Cake or Cupcakes
If you opt for an elaborated cake, select it depending on the colors you chose, your favorite scene, your preferred character or even your favorite element from Beauty and the Beast. Although a small cake for a quince celebration this was our favorite since it includes key elements to the story. As for cupcakes, these are definitely less expensive, DIY plus work more effectively during serving time.
An arrangement of different characters-like cupcakes will look great but aren't these Beauty and the Beast  fluffy yellow treats fantastic?
Other key elements
One of our favorite Beauty and the Beast party incorporated element while doing research was The West Wing!  How about naming the dance floor The West Wing and asking your guests to meet you there after dinner so they can enjoy your quince waltz or surprise dance?
If you had a Beauty and the Beast quince celebration send us your pictures. Are you considering a specific theme? Let us know and we'll write about it, until then quinceañera!
Photo credit: Visit iheartsugarsugar.wordpress.com