Everything must be in place at your quinceanera – that includes everything underneath your quinceanera dress!
Don't regret looking back at your quince video and photos and seeing unwanted panty lines or dangling bra straps. Know what to wear underneath your puffy quinceanera dress before your big day arrives!
STRAPLESS/HIGH NECK DRESSES
If you're on the less bustier side, you can simply ask your seamstress to sew in cups or padded cups for the support you desire without having to worry about wearing a bra. Strapless bras are also an option. For ladies with a bigger bust, you should definitely purchase a comfortable strapless bra for the support you need.
H&M sells comfortable strapless bras in black, white, hot pink, dark green, light pink, and taupe that come in packs of two for only $17.99.
BACKLESS DRESSES
Double sided fashion tape and adhesive bras will become your best friend. Adhesive bras are meant to stick to the front of your breasts, leaving out the strap in the back. Use double sided fashion tape as needed to prevent your dress from moving out of place. For chicas will fuller breasts, you may want to ask your seamstress to sew in cups or a body suit without the back showing.
Target offers a wide variety of adhesive bras depending on the comfort and style you're looking for.
HALTER 
Purchase a convertible bra with clear straps that will allow you to remove one strap or convert into a halter-friendly bra. You may also go strapless if you remove all. If you do so, make sure you jump around to test it out. You wouldn't want to be adjusting it every second during your quinceanera.
Search on Amazon.com for convertible bras with clear straps, prices start at $12.99.
MERMAID/TRUMPET STYLE DRESSES
Mermaid and trumpet style quinceanera dresses will beautifully hug all your curves and flair out at the bottom for a glamorous feel. Since it's tight fitting at the top, you want to ensure that there are no panty lines showing. If you're worried about your extra belly weight bulging out, you can purchase a bodysuit or Spanx to appear slimmer. Just make sure that your bodysuit ends where your dress starts to flair out or else you'll be showing panty lines.
Visit your local Kohl's for comfortable high waist Spanx that will smooth out your belly area and eliminate unwanted panty lines.
Comfort is key!
Remember, you'll be posing, greeting guests, dancing, and walking around with your quinceanera dress. You don't want to be worrying about your straps appearing in every shot, your strapless bra sliding down, or visible panty lines. The best thing you can do is test out all undergarments for a full day prior to your quinceanera (jump around, walk around, and take a few pics). You know you've chosen the right undergarment if everything is in place and you're comfortable by the end of the day.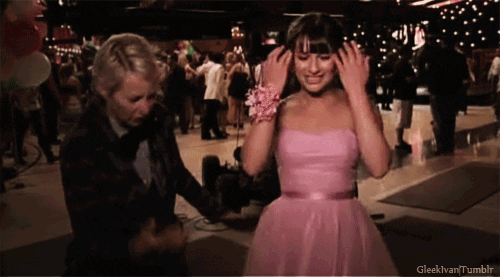 Featured image is property of: Morilee.