We've compiled the most popular songs that you can't go wrong with, your guests will for sure enjoy the performance along with the song choice.
These were the most played beats at Quinceaneras this past year, some are still making the DJ's list this winter!
The songs might not be as new but the beat never gets old! Quinceañeras tend to love movin' and groovin' to all these as soon as they come on.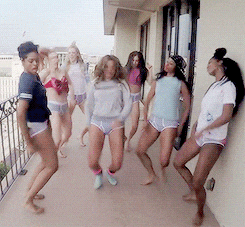 Put your Quinceanera guests' dancing skills to the test and invite them to an extremely entertaining and unforgettable XV celebration.
Take your pick, the best hot songs to add to your playlist are:
Beyonce- Flawless
Beyonce- Partition
Xtreme- Te extraño
Bruno Mars- Uptown Funk
Grupo Control- Tao Tao
Romeo Santos- Promise ft. Usher
Prince Royce- Stand By Me
Camila Cabello- Havana
Selena– Baile esta Cumbia
Wisin- Adrenalina ft. Jennifer Lopez, Ricky Martin
Daddy Yankee- Shaky Shaky
Oro Solido- Moviendo las Caderas
Temperature- Sean Paul
Bill Haley- Around the Clock
(Skip to 19:50)
Montell Jordan- This How We Do It
(Skip to 4:20)
From baile sorpresa ideas to songs to make an amazing entrance, your quinceanera guests will LOVE THESE!